The 19th Asia Pacific Rubber & Plastics Exhibition-litai
2022 is a crucial year for the "14th Five-Year Plan". Whether it is to expand domestic demand to promote new infrastructure, or to replace domestic production to build plastic recycling, technological innovation is the source of living water, and it is also the foundation and "golden key" to consolidate the development of dual recycling. Accelerating scientific and technological innovation and upgrading and transformation has become an inevitable move for rubber and plastics enterprises to seize the commanding heights of the future and market competition.
Asia-Pacific Chinaplas will be held from July 18 to 21, 2022, with 12 major exhibition halls, with an exhibition area of 120,000 square meters, with 2,000+ global high-quality suppliers, and a huge amount of mechanical technology and innovative materials will be unveiled. Qingdao World Expo City International Convention and Exhibition Center. It is expected to attract 150,000+ professional visitors from the rubber and plastics application industry. Standing at this new starting point, let us gather at CHINAPLAS 2022, seize the golden development opportunities of the market, seek new situations in the changing situation, and jointly explore the development path under the dual cycle of internal and external.
LITAI MACHINERY Co., Ltd. was invited to participate in the 19th Asia Pacific International Plastics and Rubber Industry Exhibition! The products displayed by LITAI this time include TTF-520A three-station thermoforming machine, air compressor, chiller, air tank.
TTF-520A full-automatic three-station plastic thermoforming machine
TTF series full-automatic thermoforming machine is our latest developed core product. The machine combines forming, cutting, and stacking into process. widely used and suitable for most of the customer requested, it can produce plastic trays, containers, boxes, lids, etc . The machine is completely driven by servo motor. stable operation, low noise, high efficiency, high quality.
Working stations is driven by stable four guiding-pillars (GCr15 steel, outside is hard chrome plated) structure. Wear resistant, and extend equipment life. Working station, sheet feeding and rolling part all completely driven by servo motor system, more accurate and efficient.
Every station is driven by the eccentric crank linkage structure. Feeding and heating part have optoelectronic switch in order to prevent error operating from production process. The toothed chain made of 65#Mn, helping convey sheet. Aluminum rails with water cooling, save water. The machine adopts PID temperature system, it shows high precision, and temperature control tolerance <1℃. Each servo motor has overload protection for machine's overworking. Low barycenter and height of finished products as well as steady running ensures easy operation and friendly viewing. There is an alarm function of the sliding doors.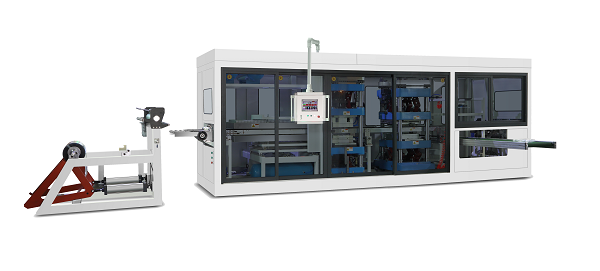 We believe that this exhibition will be a test for our products and engineers. Challenges also mean opportunities. The questions, needs and valuable opinions of customers will also guide our long-term development in the future. The road ahead is still long, LITAI MACHINERY Co., Ltd. will also continue to improve the management system, accelerate the process of building the Shiteng brand, rationally face the market demand, produce and design more high-quality products to meet the needs of the majority of users, and provide Chinese and foreign customers with better quality products. Much high quality service.